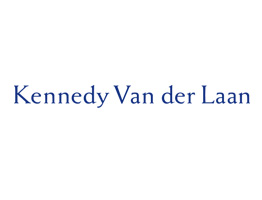 Name organisation:
Kennedy Van der Laan
Reviewer:
Klaas Huijgen
Organisation type:
NV
Expertise:
Law firm
Focusarea:
As a full-service firm of solicitor, barristers and civil law notaries, Kennedy Van der Laan focuses on Banking and Finance, Insurance, Information Technology, Health Care and Government.
Website:
www.kvdl.nl
Koppel uses Horizontal Supervision. This inspires faith
According to Klaas Huijgen, Koppel was an obvious choice as they had already proved their mettle as the tax consultant of several of KVdL's partners even before Klaas Huijgen joined the firm. "My initial impression of Nico Koppel when we first met was one of dependability. It is this sense of comfort which at the end of the day is what you're looking for. Nico take his work very seriously, but at the same time displays a natural innovative drive which – it takes one to know one – makes him something of a rarity within the accounting profession."
One of the things with which Klaas Huijgen has been particularly impressed has been the Horizontal Supervision covenant with the Tax and Customs Administration: "Similarly to ourselves, Koppel was quick to conform to the tax authorities' regulations. I never even had to bring it up!"
The Horizontal Supervision approach entails close collaboration between the business community and the tax authorities, in compliance where the legal profession is concerned with the newly tightened up requirements (in response to a series of incidents) of the Netherlands Bar Association. "The fact that as KVdL we are partnered by Koppel in all matters fiscal radiates confidence vis-à-vis the tax service. The tax authorities have a complete understanding of our accounting records, which in turn has reduced the need for meetings and tax audits."
Koppel reassuringly provides all partners with the same information
The new approach has boosted efficiency even further, as Klaas Huijgen has noticed at various levels: "In the past some of the duties performed by our staff executives were inadvertently duplicated by the external advisers, or a particular partner communicated his information to his own tax consultant without bringing us up to speed – and not being tax experts ourselves, we of course made slip-ups of our own. All in all our firm's tax returns were a frequent cause of unhappiness." The advent of Koppel has changed all of this. The quality has been notably improved and KVdL has been delighted with the amount of time it has freed up and the 15 thousand euros or so by which it has annually cut costs.
Klaas Huijgen has moreover noticed that a sense of peace and quiet now pervades the organisation, not just where KVdL's accounts department is concerned but also at management level and among the partners: "Koppel provides all partners with the same financial data, in marked contrast to the old situation. The arrangement with Koppel moreover has freed up a lot of the partners' time. It is my job to ensure that the requisite documents are made available so the partners don't have to bother, and cloud computing is used to get the information to where it is supposed to go."
Klaas Huijgen and Nico Koppel in mutual consultation have succeeded step by step in optimising (digitising) the exchange of information: "This is crucial to us as an innovative business. Cloud computing is just a simple example, and yet there are accountants who haven't a clue as to how it works. At Koppel they are technologically proactive, and gratifyingly up to speed in the area of social media. They deploy a digital system of making life easier. Partners are automatically provided with e-mail messages, reminders and the latest information, thus ensuring the efficient processing and vetting of their accounting records."
The quality of the work for the partners is first and foremost
All the same Klaas Huiijgen still sees room for improvement: "There is always the question of communication. Lawyers constitute a high-maintenance group of clever and self-sufficient professionals who have a tendency to be opinionated, and who in a sense are as different from accountants as chalk and cheese". Even so communication between the two "extremes" can be seen to be improving all the time: "Nico Koppel is always open to suggestions and recommendations. It is his goal to improve in tandem. As it is the quality of the work for the partners which is first and foremost, he and I will continue to reconcile and implement improvements together."
The old situation
As KVdL's 25 partners each operate their own private limited-liability company, responsibility for sales records and payrolling rests with the partner in question. Before Klaas Huijgen joined KVdL as Director of Finance & Operations, it was customary for the partners themselves to do their own book-keeping; only the tax-related matters were outsourced to (different) consultants, resulting more often than not in duplication of duties by the in-house accounts department and the external consultants.
The solution
Klaas Huijgen decided to hook up with Koppel Services. Only KVdL's "umbrella" accounts continued to be attended to by the law firm itself whereas the partners' payroll records were outsourced to Koppel. A designated staff member at KVdL is now in charge of furnishing Koppel with the necessary paperwork, for the latter to see to processing and filing with the Tax and Customs Administration.
The Benefits
Efficiency: no more unnecessary work for KVdL's accounts department.
Annual cost saving of 10-15 thousand euros.
Horizontal Supervision: compliance vis-à-vis the Tax and Customs Administration, the Netherlands Bar Association and KVdL executive management alike.
Quality: Koppel Services is always completely up to date on the latest tax rules.
Uniformity: Koppel Services provides KVdL's partners with standardised information and advice.
Peace of mind: KVdL's partners and executive management know precisely where they're at.
Economies of scale: its "bulk approach" has enabled Koppel to lower its fee per individual partner.