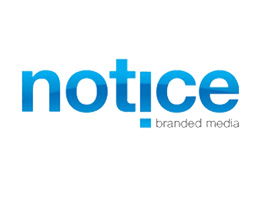 Name organisation:
Notice Branded Media
Reviewer:
Rory Ligthart
Organisation type:
BV
Product:
Audio-visual communication
Total staff:
50
Expertise:
IT
Website:
www.notice.nl
Koppel Services is an across-the-board service provider and a true professional
"We are a leading player in what admittedly is a highly specific niche market, where we do what we do and do it well." Rory Ligthart set out on his own in 1999 and has never looked back since he first scaled the entrepreneurial ladder. Having trained with Seattle-based Muzak Holdings (of elevator music fame), on his return to the Netherlands he launched his own business of supplying targeted music on hold to companies as a way of entertaining telephone callers while there were waiting to be put through. The MOH activity soon expanded into a range of audio-visual media specifically geared to businesses, with services such as in-store music and narrowcasting.
Market responsiveness
"We have consistently adapted to market requirements including where this has been a long-haul affair," says Rory Ligthart. "What started out with our supplying music on hold to operators of 0900 service numbers in the Netherlands has since evolved into our generating customised software for The North Face as one of our European clients." Notice's customers may be bigger and its service range more elaborate than when the business was first launched, its central plank has remained very much the same: making available experience creating media to people in a buying or waiting environment. Explains Ligthart: "Our audio architects compose music that is specially geared to the customer's target group or the requisite brand experience. One of the things we do is develop video and music programmes: screen-based communication and background music, or digital signage as it is also referred to. We do this for thousands of customers across virtually all market segments." Rory Ligthart remembers the moment he realised that what he needed was a tax consultant: "Your business negotiates a particular growth path and hooks up with a variety of partnering organisations along the way. Unfortunately our original choice failed to work out: there were errors in the financial statements and I had this nagging feeling of things deliberately being overcomplicated. That was hardly my idea of a lucrative partnership."
The partnership feeling
As Rory Ligthart had for some considerable time been a satisfied customer of Koppel's in a private capacity, he got in touch with Nico Koppel to sound out the possibilities for Notice. "I was familiar with Koppel Services as they already attended to my personal holding company and that of my business partner. A meeting was scheduled at which we put up Notice's wish list for discussion. The sense of rapport was almost instant."
Koppel Services supports Notice where it concerns the latter's financial records. Says Ligthart: "As an across-the-board service provider and a true professional, they handle everything from payroll accounting to the provision of fiscal support and advice. Another major advantage is that they are in the perfect position to keep their ear to the ground, and advise us accordingly, where the Tax and Customs Administration is concerned. That's what I call useful." Ligthart is equally pleased with the way the lines of communication have been arranged: "We have a single contact at Koppel's and that works. The great thing about Nico is that he is generous with the information he provides. You never have to ask him to elaborate on something or other in the financial statements: it's all there, diagrams and analyses and all. Nico in addition to being a wizard at creating links is someone who reads up on his subjects and is keenly aware of what's happening."
Forewarned is forearmed
Rory Ligthart expects that the partnership between Notice and Koppel will grow even closer. "Koppel have been looking after our accounts for several years and have done an exquisitely professional job. We involve them a fair bit in what's going on. We recently asked them to help us assess one of our financial associates, which they did to our utmost satisfaction. They then helped us draft a job profile for an operative who would be a better match for us and for our business' current stage of development. This sort of thing would be unthinkable without trust." Concludes Ligthart: "Koppel has already identified a major automation overhaul as the main challenge we will be having to overcome in the near future, and although the hard graft will be up to us, they will be joining us in the thinking process. We take each other seriously in our respective areas of expertise, and that is what creates a true feeling of added-value partnership."
The old situation
Although the founder of Notice Branded Media, Rory Ligthart, was already a customer at Koppel's (as coincidentally was his fellow director cum major shareholder), the fledgling company initially engaged a different firm of accountants – much to their chagrin, as they soon realised that what they were not getting was the proactive commitment to the expansion and nurturing of their company's mission or the close involvement in their day-to-day operations and international ambitions that they were craving. Which led to Koppel being invited to pitch their services.
The solution
Koppel soon proved to be the answer to Notice's prayers. Its hands-on approach enabled it in no time at all to identify and iron out several kinks, in a transition which could not have been smoother sailing. From day one Koppel by coming up with "smart solutions" has proved to be a valuable contributor to Notice's growth whose close involvement in Notice's day-to-day operations has assured the latter that its mission and vision are fully appreciated.
The benefits
Reliable audit and consultancy partner;
Does not believe in pussyfooting around sensitive issues;
Combines considerable substantive clout with a refreshingly hands-on approach;
Mutual understanding enables maximum responsiveness;
Koppel consistently proves its mettle as a knowledgeable professional whose explanations are nothing if not lucid;
Relations between the two organisations are good-natured and easy.